Authentic movie posters, Lobby Cards, Original Programs. Unless otherwise noted, all are originals, No reprints. Most posters have "National Screen Services" information at the bottom. All posters have been folded at some time. All pictures are of actual sale item. From my own collection, purchased in Hollywood or from 20th Century Fox employee between 1979 and 1983. For these pictures, I didn't try to flatten them out too much , trying to avoid extra stress on the folds. Posters should flatten out pretty well under glass. Sorry about the glare! Shipping rate shown in paypal is for delivery WITHIN THE USA / CANADA ONLY!
Rare Movie Posters
Taxi Driver
(1976, Robert Deniro, Jodie Foster)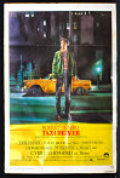 Poster # 76 / 14. 27x41", The film that REALLY put Martin Scorcese and Robert Deniro on the map. 27x41" original issue, not a reprint. E, f, nth
$795 + S&H
Texas Chainsaw Massacre, The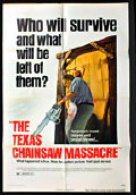 Poster # 74 / 282. 27x41", The film that changed my life in determining what a horror film was. A super rare poster. This is from the ORIGINAL Bryanston Pictures 1974 release of the film, NOT the New Line Cinema re-release of 1980. See lower left corner. AND though it's hard to see (again, go to blowup) , poster was signed for me by Leatherface icon Gunnar Hansen. Signed with silver paint pen and difficult to see here in thumbnail. He mentioned that he had hoped he would be remembered for other things he'd accomplished but this would have to do. I "burned in" signature area here to highlight it (just above "The" in the title ). Leatherface himself was impressed that I had an original of this. E, f, nth
$995 + S&H
(1974, Marilyn Burns, Gunnar Hansen)
Buddy Holly Story, The

(1978, Gary Busey, Don Stroud )
Poster # 780066. 27x41" E, f, nth
$235 + S&H
Alien
(1979, Sigourney Weaver, Ian Holm, Tom Skeritt)

Poster # 790019. 27x41" Excellent. Directed by Ridley Scott. A film that redefined science fiction films through a simple story. Infected worker brings alien lifeform on to a space ship. Some think "IT - the Terror from Beyond Space" (Marshall Thompson) was the inspiration. E, f, thtb. $575 + S&H
2001 - A Space Odyssey
(1968, Keir Dullea, Gary Lockwood)
Poster # 74-294. 27x41" Excellent. 1974 re-release. Copyright on poster, from National Screen Service says "1971". E, f, tht
$455 + S&H.

Raging Bull (advance one sheet)
(1980, Robert Deniro, Joe Pesci)
Poster # 800079. 27x41" Very Good. 2" tear at fold between "Coming" and "this". Classic poster! E, f, thtb
$595 + S&H

Manhattan
(1979, Woody Allen, Diane Keaton, Michael Murphy))

Poster # 790072. 27x41" One of Woody Allen's best known films. Classic poster! E, f, thtb
$375 + S&H
Tightrope
(1984, Clint Eastwood, Genevieve Bujold )
Poster # 840-075. 27x41" Clint Eastwood. Red ink is so thick on this it has a texture. E, f, thtb
$235 + S&H

Dark Star
(1975, Brian Narelle, Dan O'Bannon)
Poster # 75 / 16. 27x41", John Carpenters first film. Note this poster is from the ORIGINAL BRYANSTON PICTURE RELEASE, (also see original "Texas Chainsaw Massacre", below), NOT from a re-release. Tack holes in corners. E, f, thtb
$535 + S&H
Silent Night, Evil Night (Black Christmas)
(1975)
Poster # 75 / 148. 27x41", With Keir Dullea, Margot Kidder, John Saxon. Original title "Silent Night, Evil Night', includes B&W overlay when title was changed to "Black Christmas".
E, f, nth
$525 + S&H
Rolling Thunder
(1977, William Devane, Tommy Lee Jones)
Poster # 77 / 139. 27x41", Vietnam vet comes home, is given gold coins for each day he was a prisoner, thieves break in grind his hand off with a garbage disposal, steal coins. Devane gets hook prostesis, payback ensues with help of Tommy Lee Jones. Written by Paul Schrader (Taxi Driver).
E, tht $300 + S&H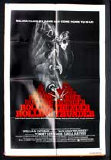 Looking for Mr. Goodbar
(1977, Diane Keaton, Richard Gere)
27x41", Poster # 770146.
E, f, nth.
$295 + S&H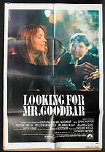 f = folded
M = mint
E = excellent
VG = very good
G = good
nth = no tack holes
tht = tack holes top only
thtb = tack holes top, bottom
more to come................

Original posters also on hand for: Dario Argento's "Deep Red" and "Suspiria", Advance one sheet for "Apocalypse Now" , "Alien" 18 page program, original "2001" program, 2 sheet Italian poster for original John Carpenter's "Halloween".
4/9/17: Please note our NEW email address!!

omtech1@zoho.com
Dedicated to Preserving the OM System